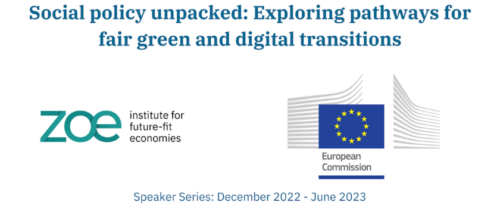 The prospects for fairness and inclusion in Europe are being shaped by the green and digital transitions, which impact the future of work and social security. How these trends will affect people's lives depends on the way the EU and its Member States design policies to shape the green and digital transition.
Rewatch the opening event of the new Speaker Series 'Social policy unpacked: Exploring pathways for fair green and digital transitions', co-hosted by ZOE Institute for future-fit economies and the European Commission (Directorate-General for Employment, Social Affairs and Inclusion – DG EMPL).  This series creates a space for expert-informed dialogue on green and digital transition topics. By bringing a social lens to the green and digital transition agendas, the outstanding thinkers we're inviting will channel their ideas and approaches into European social policy and challenge existing paradigms.
In this first event, Prof Tilman Santarius and Dr Steffen Lange, lead authors of the D4S report 'Digital Reset: Redirecting Technologies for the Deep Sustainability Transformation' presented how the digitalisation megatrend can be governed to meet societal challenges. Their presentation was followed by a Q&A.
The discussion was moderated by ZOE Partner Dr Christoph Gran, and introduced by Frank Siebern-Thomas (Head of the Fair Green and Digital Transitions Unit at DG EMPL) and Jonathan Barth (ZOE Policy Director).